About us
Crickhowell Choral Society was founded in 1981 by a local GP David Hiley who persuaded any of his patients who said they could sing to join him in creating a choir. From this small group, many of whom are still members, a strong society of some 50 to 60 singers has evolved.
Sefydlwyd Cymdeithas Gorawl Crucywel ym 1981 gan David Hiley, meddyg teuluol lleol, a ddarbwyllodd unrhyw glaf a ddywedodd ei fod yn gallu canu i gyd-sefydlu côr. Mae nifer o'r grŵp bach gwreiddiol yn aelodau o hyd ac mae cymdeithas gref sy'n cynnwys rhyw 50 neu 60 o gantorion wedi datblygu.
Crickhowell Choral Society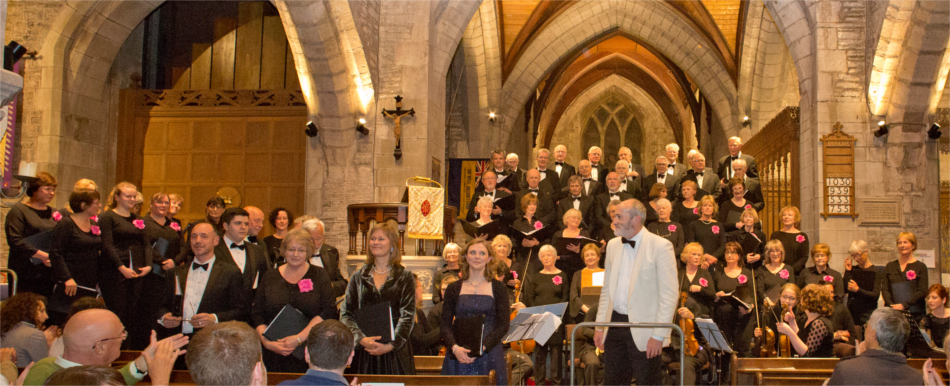 The choir's former President was Mrs Doreen Watkins, the widow of the original conductor Mr Emlyn Watkins and a loyal supporter of the choir for many years. On Emlyn's untimely death, Mr Stan Beddowes took over and under his leadership, the choir made several foreign trips; to France to compete in the Celtic Choir Festival in Brittany, to Germany and to Norway through links with one of our members.
In 1993, we were extremely fortunate in obtaining Stephen Marshall as our new, dynamic conductor. He began composing at the age of 10 and studied at Trinity College London whilst still at school. He went on to read Music at Liverpool University and composition at the Royal Academy of Music. On graduating, he began his teaching career at the King's School, Worcester, and then Giggleswick School in Yorkshire. He was Head of Music at King Henry VIII School in Abergavenny from 1981-2011 and still works freelance in music education both in local primary schools and at secondary level as well as teaching piano at Haberdashers Girls School Monmouth. He often gets his pupils involved in the Choir's performances. He is an accomplished keyboard player and a dynamic person who makes seemingly impossible things happen. He is passionate about the forgotten baroque repertoire as well as new compositions – the choir has given several 'First Performances in Wales' under his leadership. He is church organist of the nearby church of Llangattock and also conducts a small a capella group, The Unicorn Singers
In 1995, the choir organised a Music Festival in Crickhowell during the first May Bank Holiday weekend. Each year there is a different theme: 'Music's Muse' – the transforming power of music, 'An Italian Weekend' – works from the renaissance, including Handel's Dixit Dominus and Vivaldi's Gloria; 'A Right Royal Affair' – Handel and Bach and Purcell's Dido and Aeneas. Baroque operas, semi-staged and in costume have become a speciality during the festival although the choir is no stranger to the more avant garde composers like Arvo Pårt, together with the mainstream moderns, Britten and Poulenc.
In 2016, the choir was delighted to welcome the outstanding Welsh Soprano, Elin Manahan Thomas as its new president. Elin has been a special part of many of Crickhowell Choral Society's festival concerts and helps support the aim of bringing exciting performances of often neglected repertoire to fruition.
As well as a major Choral Concert in November, the choir organises a community Carol Concert in Crickhowell where local primary school pupils perform along with other young people from the town and the audience is expected to join in too.
We see the involvement of young music makers in our activities as essential to the future of the choir and organise special youth workshops as part of our May Festival which link in with the year's theme. These are open to any young person from the local schools and are usually followed by an evening performance by the pupils and their tutors.
The choir is keen to encourage young singers from the area and has set up four choral scholarships. The choir gives these young singers financial help with their music lessons and in return they sing with the choir, learning our repertoire and also have the opportunity to sing solos in our concerts.
The Choir meets on Monday nights at 7.30 pm in The Bear Hotel, an old coaching inn in the centre of Crickhowell and we have a welcome break in the middle when members are encouraged to make their way to the bar for liquid refreshment.
We are very fortunate to have the support of many local organisations; The Bear Hotel where we rehearse, Webb's of Crickhowell who sell tickets for us, the clergy and PCCs of St. Edmund's Church Crickhowell, St. Catwg's Church, Llangattock and St. Mary's Priory Church Abergavenny who are so accommodating in letting us rehearse and perform, Crickhowell Town Council, and many local businesses who give us financial support for the May Festival.
In 2005 Crickhowell Choral Society won the Welsh Amateur Music Federation's W.S.Gwynn Williams Award for its outstanding contribution to amateur music-making in Wales in the past two years.
Crickhowell Choral 40th Anniversary Presentation