Crickhowell Music Festival 2023
"Manifesto!" April 28th – May 1st 
Welcome to our 27th annual music festival with this year's 'Manifesto' theme focussing on pieces that held great expectations for their composers and so represent a musical manifesto of their talent. The festival will include Mozart's most ambitious choral work, a Missa Solemnis on a scale usually seen with Bach and Beethoven, and the young Handel's powerful Dixit Dominus which he wrote during his Italian apprenticeship in Rome. To help us get through all this will be an exceptional group of soloists, including one of the Choral Society's former scholars. 
Click for all you need to know about our 2023 Music Festival.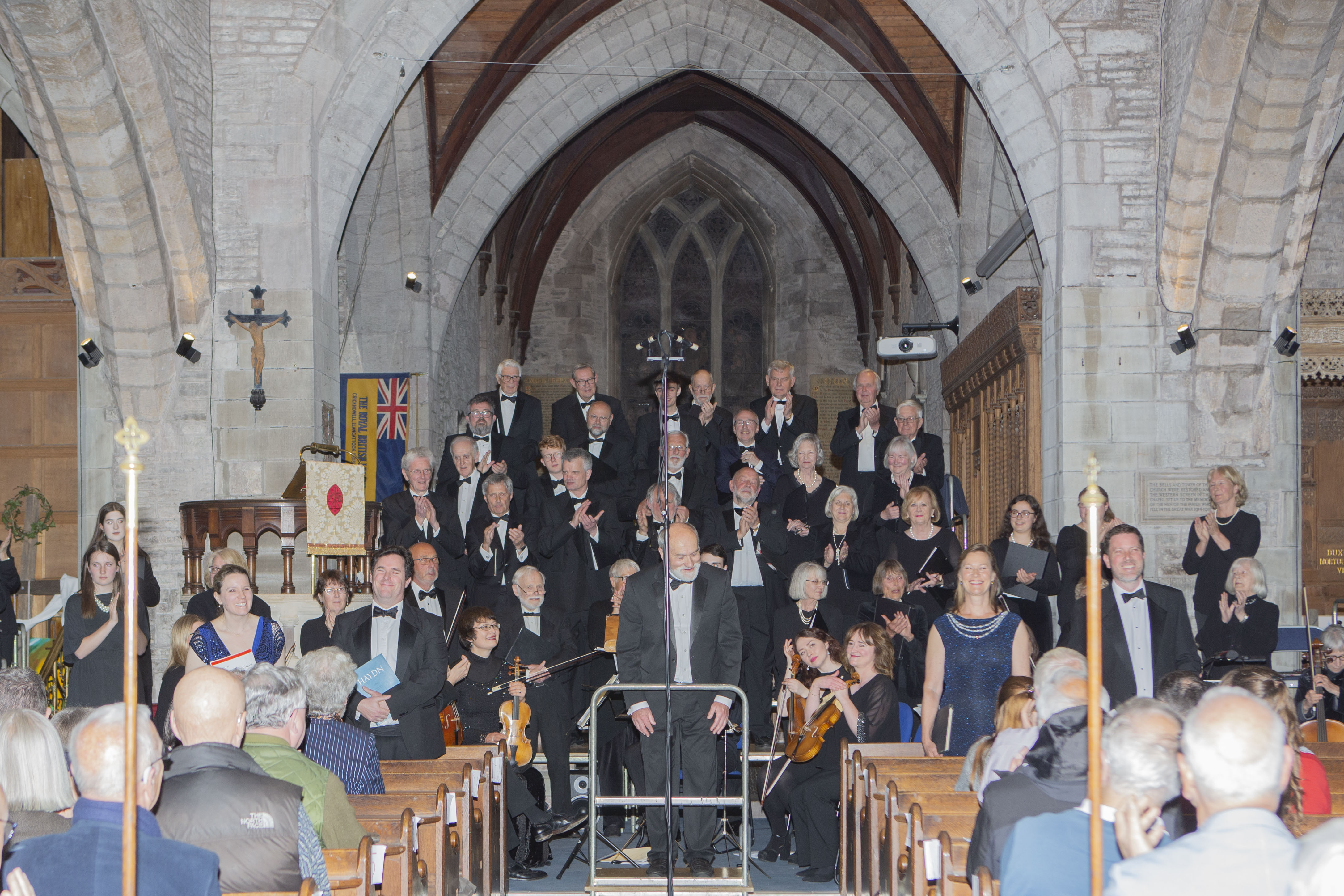 Who are we?
Local GP David Hiley takes the credit. He used to ask his patients if they could sing and when enough of them owned up he started Crickhowell Choral Society back in 1981. Some of them still turn up, including David himself, and remain stalwarts at the heart of the 50 or 60 singers we now comprise.
Like Crickhowell itself, the choir is a mixed bag with people who have lived in the area all their lives, and others who by various means have discovered the border country, liked it, moved in and decided that singing might be the icing on the cake.
What do we do?
The repertoire is very varied, and if you don't know us you may be surprised at its extent. Yes, major choral works certainly feature strongly – Bach's B Minor mass and the St John Passion, the Verdi Requiem, Elgar's Dream of Gerontius – spring to mind, but so do less known works, music by more modern composers – the likes of Arvo Part and James Macmillan, and frankly some of the more tricky compositions that many choirs try to ignore. Occasionally we'll do semi-staged performances like Purcell's Fairy Queen. Conductor Stephen Marshall's knack and indeed hallmark is to find music that ultimately stretches the choir just far enough to make us feel that we've actually achieved something special when the performance goes well, as of course it invariably does. It's very satisfying on so many levels.
The practical stuff
The choir meets on a Monday evening at 7.30 and at least until Covid we did so at the lovely Bear Hotel, an old coaching inn very much at the heart of Crickhowell. To keep us all that bit safer until Covid goes away we've moved to the Clarence Hall, also in Crickhowell, but bigger and better ventilated than our snug at The Bear. We very much look forward to returning there when Covid dies down as we are missing the mid-rehearsal social break for which it is the perfect venue.
Performances? Typically four every year. We follow an academic year for reasons that remain a mystery, so September starts with rehearsals for our late-November performance, usually held at St Edmund's church. Then there's Christmas, often in the company of local school singers and performers, and in the New Year we begin to prepare for our major event of the year, the Crickhowell Music Festival which takes place over the early May Bank Holiday weekend. Perfect.
Before the summer hols we hold a summer concert, often something lighter, then it all starts again.